Pinfold rejuvenation begins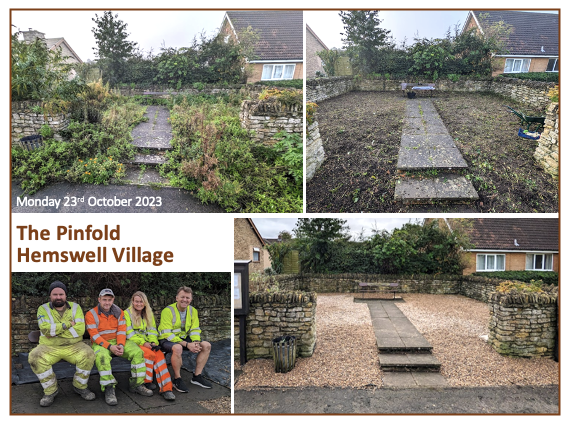 Many residents have commented on the neat and tidy Pinfold – made possible by a successful bid for support from the LCC Highway Service Social Value Volunteering Days. An early start on Monday, 23rd October saw Richard Hardesty of WSP, Ellie Baker of LCC and Graig and Luke of Balfour Beatty ready for weeding, pruning and clearing the ground to reveal the full extent of the Pinfold, followed by laying of weed suppressant fabric and gravel ready for over-wintering. Records suggest a Pinfold has been in Hemswell since the 1600s, and it's believed a 'time capsule' was buried there in 1977 - but if anyone knows its exact whereabouts, please let us know as it wasn't disturbed during the weed clearing!
Thanks to all involved, including Joanne & Mick Price for accommodating the skip, John Palmer for donating paving slabs, Janet Burton, Bryan Mander, Richard Brown of Aisby and the Village Hall Committee for allowing access to the hall facilities for our hard-working visitors.
The PC funded the cost of skip hire and materials and will seek grants for further work during 2024, but we'd love to hear your ideas for the 'rejuvenation' of the Pinfold and how best to mark it as an important historical asset of the village – maybe even appoint a volunteer 'pinder' to look after it!